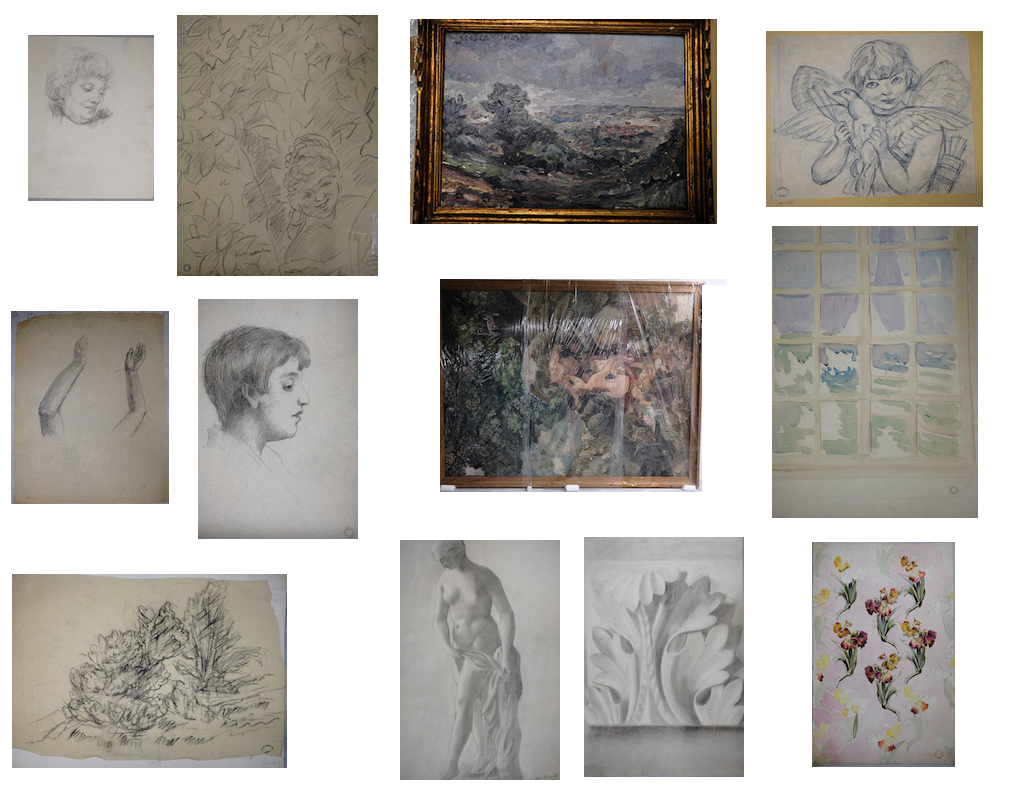 Un lointain, research around the archives of the painter Gaëtan Dumas in collaboration with the Archives Bordeaux Metropole
Dans le cadre du cycle résidences/expositions Doucement doucement
un partenariat entre le collectif grŒp et les Archives Bordeaux Métropole


Tableau de Gaëtan Dumas, huile sur toile 24x32 cm
Fonds ABM, Bordeaux 114 S 308 © Archives Bordeaux Métropole, cliché Bernard Rakotomonga
Restrict a pallet to nature in an attempt to contain it. Blue, brown, yellow, white, dark green. Trees linking earth and sky. This spring, great work, hymn to nature, mixed touches, coarse but sharp in thickness, a peat sky like an inversion: wider touches, subtle grays that reinforce the colors of the foreground. A certain lightning in the execution but which does not find forms in adequacy. Curvatures, drop shadows, poorly defined vegetation lacking relief. The curvature of the ground seems to want to reach the horizon causing an imbalance, as a last gesture.
40 years spent in front of the easel. Efforts do not pay off. My line stagnates as on the first day. Sometimes a drawing pops up out of nowhere and stands. I get lost in the large formats and in the small ones my palm slips under its own support. I can't let go of my mind, the line and its imperfections hold me prisoner. Always forget everything. This fleeting trait, I try to grasp it. I can't do it or so little sometimes. Wanting to be in the truth. Have good intentions, good will, relentless obstinacy... All this seems to be useless. Wait for this day of the great exhibition that does not come, live in the suffering of the lack of recognition. I would like to lose consciousness. Let me be forgotten.
Commissariat : Emmanuel Aragon, artiste, Marie-Sylvie Barrère, conservatrice en chef chargée du développement culturel et artistique aux Archives Bordeaux Métropole en collaboration avec Jean-Cyril Lopez, chef du service des publics des Archives Bordeaux Métropole.
Archives
Sémaphores
Sémaphores, une proposition de palette d'après Gaëtan Dumas
Emulsion huile-œuf recette XL (Xavier de Langlais)
Panneaux en lin marouflés sur bois 48x48 cm chacun.
Printemps
Printemps
une proposition d'après le tableau du fonds Gaëtan Dumas (Fonds ABM, Bordeaux 114 S 308 © Archives Bordeaux Métropole) et de sa
palette de couleurs
Emulsion huile-œuf recette XL (Xavier de Langlais) sur lin sur châssis 24x32 cm
Cette œuvre à fait l'objet d'un
don
aux Archives Bordeaux Métrople (2 mai 2019)
Plus d'informations

Doucement Doucement Séquence #1 - Au creux. Exposition Résidence aux Archives Bordeaux Métropole.
voir aussi la séquence #2 - Invincible

Je perds le nord (2016). Dans le cadre de l'exposition Le Plan de Monsieur Lem, Archives et Art Actuel
Collectif grŒp
Emmanuel Aragon, site de l'artiste
Archives Bordeaux Métropole